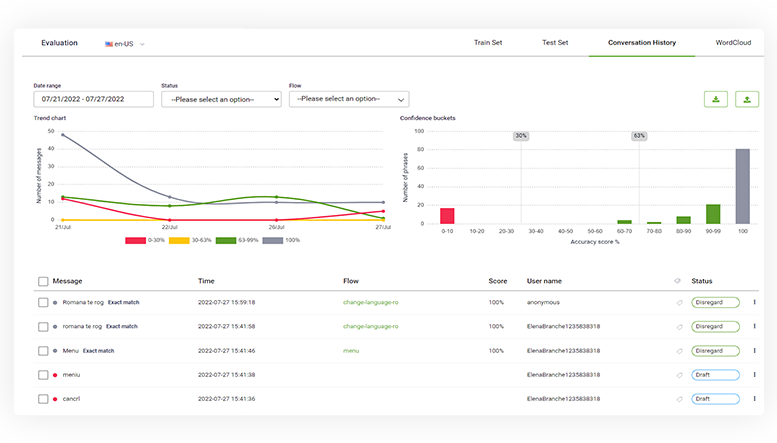 NLP EVALUATION TOOL
Who says that business users can't do data scientist work?
With DRUID, business users can access a state-of-the-art tool to easily view, configure, and update conversational AI flows, add notes, provide context and troubleshoot existing issues. This enables a boost in productivity, faster time to production, better relevance, and ultimately provides a better end-user experience.
CONVERSATION HISTORY
Fixing conversational user journeys in just a couple of clicks
Debugging interactions and journeys within your conversational AI solutions has never been easier. Using the Conversation History feature in the DRUID platform, bot authors can track the conversation's details and explore the flow to work out any issue. Also, the conversational flow designer visually marks the conversation path, pinpointing problems, integration errors, or utterances that are not linked to existing flows.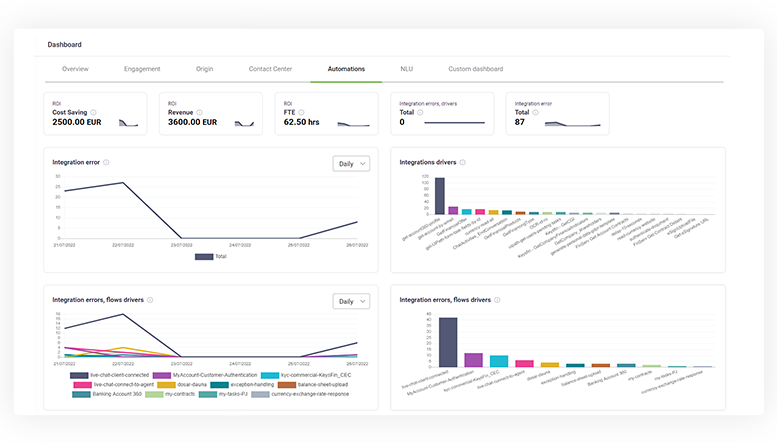 CUSTOMIZABLE DASHBOARDS
Rev up business processes with real-time actionable insights
With its customizable dashboards, DRUID transforms millions of daily interactions into hundreds of calculated metrics, charts, and tables, that include business results, ROI, and FTE saving, to provide real-time actionable insights and understanding.
Enhance user experience with DRUID conversational AI and automation
Schedule a demo with our experts and learn how you can pass all the repetitive tasks to DRUID conversational AI assistants and allow your team to focus on work that matters.