GLOBAL PARTNER NETWORK
Partner with DRUID:
Co-Create, Innovate, and Redefine the Digital Frontier
At DRUID, we envision a world where voice and digital interfaces seamlessly merge, enhancing both customer and employee journeys. Our state-of-the-art technology isn't just about creating virtual assistants, it's about reimagining how enterprises function, integrate, and evolve. Our partner ecosystem isn't just a network, we are welcoming thinkers and doers of all calibers. As we join forces, we're not just driving business, we're crafting stories of success, satisfaction, and growth. With DRUID's cutting-edge AI prowess, and a passion for conversation, we and our partners are sculpting the future of virtual assistant dynamics.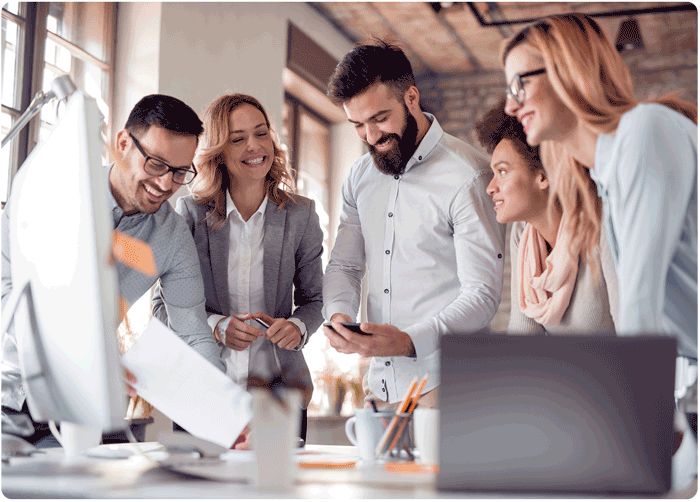 GLOBAL STRATEGIC PARTNERSHIPS
Global Partnerships, Local Insights: The DRUID Ecosystem
Our partner ecosystem stretches across the world. With partners from different regions, we get a firsthand look at local trends and needs. Every partner, whether from a major city or a smaller town, brings valuable insights. This global mix helps us improve our conversational AI solutions, making sure they fit different markets. Working together, we aim to make our technology useful and relevant everywhere.
PARTNERSHIP TYPES
Choose which Type of Partnership is Right for You
Deploy the DRUID Platform and Conversational Ai Licenses. Tap into the power of our advanced conversational AI solutions. Reach a broader audience and harness the swift deployment capabilities of our low-code platform to transform user experiences across diverse sectors.
Our managed service offering that allows partners to fully benefit the conversational AI ecosystem. Together, we'll ensure seamless deployment, continuous optimization, and dedicated support, empowering your clients with AI solutions that evolve with their needs.
Make use of your technical abilities to deliver DRUID AI to customers. Together we'll enrich DRUID's offerings, ensuring that our combined technologies provide users with a comprehensive and cutting-edge conversational experience.
EASY PARTNER ONBOARDING
Partner Enablement Flow
We offer a comprehensive range of programs to assist our partners in developing effective virtual assistant solutions. We provide the necessary training, tools, and resources to ensure our partners are well-equipped for success.
1. Evaluation

2. Agreement

3. Onboarding

4. Marketing support

5. Growth
At DRUID, we employ an established framework to meticulously evaluate our collaborative alliances. This robust mechanism ensures that every partnership aligns with our standards, values, and strategic objectives, fostering mutual growth and ensuring the delivery of top-tier conversational AI experiences to our users.
We believe in the power of collaboration. Before penning any agreement, we engage in thoughtful discussions to ensure that the terms resonate with shared aspirations. Our goal is always to foster agreements that celebrate mutual benefits, setting the stage for a prosperous and harmonious partnership.
Begin your association with DRUID with a focused induction that includes sales, business analysis, and platform training. We aim to provide our partners with the foundational knowledge and tools needed to effectively navigate the conversational AI business landscape.
Strengthen your marketing initiatives with DRUID's dedicated support and tailored campaigns. We collaborate closely with our partners, offering resources and insights to amplify outreach and drive impactful results in the conversational AI.
We support our partners in their growth journey by providing guidance on Go-To-Market (GTM) and sales strategies. Our aim is to collaboratively achieve steady progress in the conversational AI market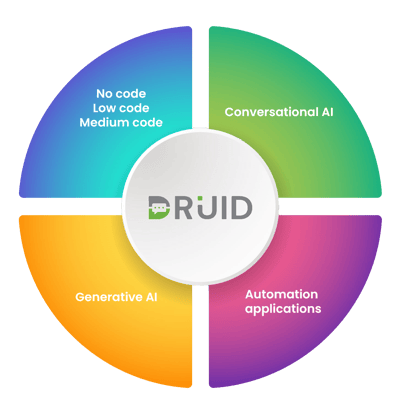 WHY IS DRUID DIFFERENT?
Advanced Conversational AI for Business Automation
DRUID is a unique conversational AI platform integrated with major UiPath Products like Orchestrator, Action Center, and others, enabling both attended and unattended process triggering. It stands out by allowing initiation of conversations from RPA when human input is needed. More than a basic chatbot, DRUID offers end-to-end conversational business applications, seamlessly integrating with enterprise systems and RPA to execute business tasks. This platform offers customization, from fine-tuning conversation flows with "no code low code" capabilities to adding custom code.
GLOBAL PARTNER NETWORK
We Value Unity
Our partnership initiative empowers businesses from diverse sectors to harness our conversational AI technology, elevating customer interactions, propelling digital evolution, and broadening their market presence.
Present top-tier AI offerings to your clientele

Unlock fresh avenues for income via referrals and reselling prospects

Tap into privileged partner assets, encompassing sales and promotional content

Benefit from unwavering partner backing and technical guidance

Engage in mutual marketing and promotional endeavors.
Plans: Benefits and Requirements
Starter pack with enough resources to implement DRUID's virtual assistants to your clients.
---
Joint sales and marketing

Free access to Sandbox environment

Requirements: 1 Developer certified in DRUID authoring
GOLD
🌕
Setting the foundation of Conversational AI layer in multiple regions across many industries.
---
Joint sales and marketing

Free access to Sandbox environment and one Virtual Assistant internal License

Partner Marketing Development Funds

Requirements: 3 Developers certified in DRUID authoring

Requirements: 1 Business Analyst certified in DRUID
PLATINUM
⚪
Conversational AI technology complements your automation solutions portfolio at scale..
---
Joint sales and marketing

Free access to Sandbox environment and one Virtual Assistant internal License

Partner Marketing Development Funds

Extra discounts

Requirements: 5 Developers certified in DRUID authoring

Requirements: 1 Technical Consultant certified in DRUID
Why partner with DRUID?
By integrating DRUID's cutting-edge Conversational AI, partners can offer personalized experiences that surpass other conversational AI agents. Our platform ensures seamless user interactions, enhancing customer engagement. Thanks to our unique CBA concept and unique generative AI focus, partners become comprehensive solution providers. Flexible deployment options enable solutions to scale and adapt as clients' needs evolve. With DRUID's no-code platform, partners can swiftly launch innovative AI-powered solutions, gaining a competitive edge. The focus on enhancing customer experiences aligns with partners' customer-centric approach. Advanced analytics empower partners with data-driven insights, aiding informed decision-making. We offer long-term collaboration that fosters strong relationships with a trusted AI provider, building confidence in clients and attracting new prospects.
What industries are most applicable?
DRUID's industry agnosticism is a testament to its versatility and adaptability as a Conversational AI platform. With a strategic focus on BFSI, healthcare, higher education, and retail sectors, DRUID demonstrates expertise in catering to diverse industry-specific needs. Our platform is designed to seamlessly integrate with various businesses across these sectors, providing tailored solutions that optimize operations and enhance customer experiences. DRUID's industry-specific expertise allows it to address unique challenges and offer specialized functionalities to meet the demands of each sector.
What geographic regions do we cover?
DRUID's global presence set us apart as a leading Conversational AI provider with offices across the world. This extensive global reach enables us to offer localized support and services, fostering strong relationships and ensuring seamless communication. With a widespread presence, DRUID can cater to diverse business needs, staying attuned to regional requirements and providing responsive solutions on a global scale. DRUID's global footprint reinforces its commitment to serving customers worldwide, making it a reliable choice for businesses seeking international AI solutions.
How can a partner get started?
Starting your journey with DRUID is simple and seamless. Reach out to our team to get onboarded, customize the platform to fit your business objectives, and access training resources for your team. Our dedicated technical support ensures smooth integration, while our marketing experts help you develop a strong go-to-market strategy. With ongoing support and updates, we empower you to deliver cutting-edge AI solutions to your clients and drive transformational growth together.
What are Conversational Business Apps?
You can imagine them as adaptive digital workspaces operated by employees and customers working side-by-side with their AI virtual companions to complete business tasks. Delivering a total user experience 24/7, CBAs can be deployed 5x faster than features for legacy systems, successfully maximizing ROI for existing platform investments. CBAs leverage a powerful conversational AI layer, complex automation capabilities, and open connectivity to any enterprise system and RPA technology.
Am I limited by one geographical region?
Our partners are empowered to resell and implement our Conversational AI solutions globally. No region is off-limits; together, we're making the world converse smarter, wherever business calls.
TRANSFORMING WORK
Become a partner and enhance your automation offering with DRUID conversational AI and automation
Whether you're a business consultancy or BPO company, an RPA provider, or a systems integrator, you can now boost your customer's digital transformation journey with one of the most advanced low-code conversational AI platforms.


Enhance user experience with DRUID conversational AI and automation
Schedule a demo with our experts and learn how you can pass all the repetitive tasks to DRUID conversational AI assistants and allow your team to focus on work that matters.